Can you think of a good reason why women and girls around the world should not have equal opportunities regardless of where they live? Neither can we. Our mission is to level the playing field to enable women and girls to fulfil their potential by ending period poverty with environmentally friendly, hygienic sanitary protection.
Having periods is the most natural thing in the world, but in some places this simple, natural process means girls miss days from school or drop out completely and women have to stay at home, causing them to lose work days. Often, instead of decent hygienic sanitary protection, women are forced to use rags, leaves and, in some cases, soil. It isn't right and we are doing something about it, and we want you to join us.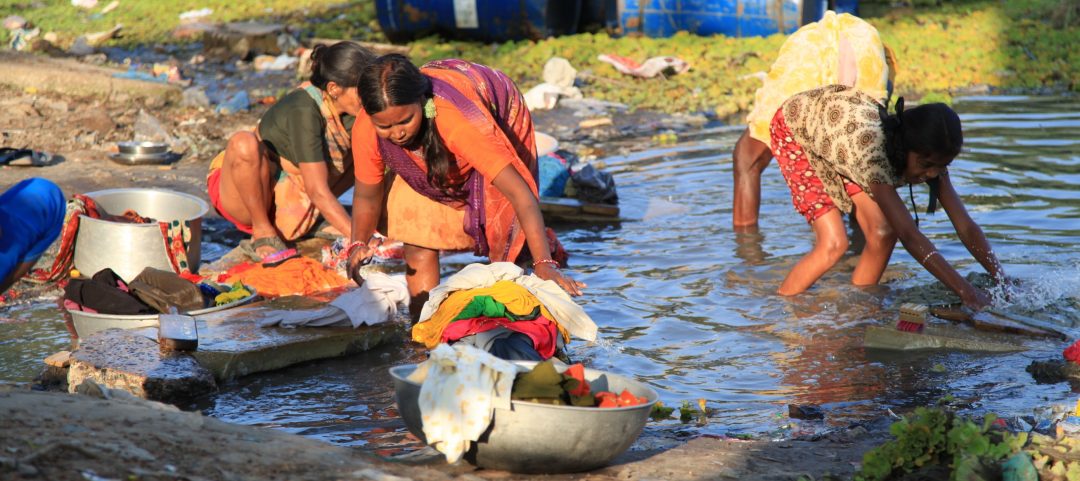 ABOUT US
Women and Girls exists to provide women and girls in India with sanitary protection that is culturally and geographically sensitive, kind to the environment and the key to helping women and girls be healthier, happier and free to fulfil their potential.
We supply women and girls with two types of sanitary protection: Saakfins™ and Safepads™. Both Saafkins and Safepads are produced in India, meaning we are helping to support the local economy, and both are made of material that is inherently anti-bacterial. This means that the sanitary protection can be washed in dirty water and remains clean and hygienic to use.
By fundraising in the UK to distribute Saafkins and Safepads, we are able to supply women and girls with a product that provides comfort, dignity and freedom because we believe that no one should be held back by the natural process of menstruation. We are helping to end period poverty in communities where there are no other options.
THE PROBLEM
Around the world women and girls suffer terrible indignities simply because they are female, and inequality for the poorest communities can be beyond our imagining.
During their period women and girls in India can be housebound, and schoolgirls can be bullied by both male teachers and boys, causing them to stop attending school altogether – all because they don't have sanitary protection.
For other women and girls, the lack of safe and hygienic sanitary protection can lead to repeated infections and illnesses, which can cause infertility. For those who use cloths, the water these are cleaned in is often contaminated and the cloths are dried in a hidden area or underneath clothes, allowing the sanitary cloths women wear to become a breeding ground for bacteria.
Whatever the scenario, for too many women and girls a lack of good sanitary protection is a poverty trap; an issue that is simple to ease.
23% of Indian girls drop out of school when their periods start
71% of girls in India report having no knowledge of menstruation before their first period
70% of women in India say their family cannot afford to buy sanitary pads
Almost 88% of women and girls in India use homemade alternatives, such as an old cloth, rags, hay, sand, or ash
For the poorest women and girls, money is used to buy food, and sanitary protection is a 'luxury' they just can't afford. Many forms of reusable sanitary protection rely on clean water, and this is a 'luxury' that just isn't available. We believe that sanitary protection isn't a luxury, and we will provide women and girls with a solution that is reusable, hygienic and safe – a solution that helps them be healthier, happier and free to fulfil their potential.
All it costs is £5 to give a woman or girl comfort, dignity and freedom for an entire year of her life
THE SOLUTION
We provide two types of sanitary protection to women and girls in need:
Saafkins™
Engineered by Livinguard™ Technologies, Saafkins™ are an affordable alternative to sanitary pads. They are the world's first 12-hour reusable sanitary solution.
Saafkins are made of a material that neutralises bacteria by piercing the microbes' cell walls and killing them instantly. They are chemical-free and are 86% biodegradable.
Saafkins can be used for 60 washes, which means they last for a year.
Safepads™
Produced by Real Relief, Safepad™ is a reusable sanitary pad designed to provide a safe and infection free experience.
Safepad hygienic sanitary pads are designed with a permanently bonded antimicrobial technology that leaves a positively charged layer on the fabric, which attracts and kills the negatively charged microbes, like bacteria and fungi.
Safepads can be used for 100 washes, which means they last for 2 years.
DONATE
Give £5 to provide a woman or girl comfort, dignity and freedom for an entire year of her life.
£5 a month would enable us to help 12 women or girls during the year.
Donate Now